Digital Temperature Controller Amplifier - J85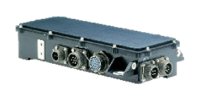 The RSL DTCA (Digital Temperature Control Amplifier) is a digital fit, form and function replacement for the original analogue exhaust temperature (T5) controller coupled with the engine Health and Usage Monitoring System (HUMS) of the GE J85 turbo-jet engine of the T-38 and F-5 aircraft.
The DTCA significantly improves the J85 engine performance and reliability enhances flight safety, fleet availability and reducing its maintenance cost.
The DTCA is a mature and field proven system

Benefits
Improved engine performance
Reduced maintenance effort and cost
Improved fleet availability
Debriefing capability
Increased engine MTBF
Decreased engine MTTR
Reduced engine stress
Technical Data
Dimensions: (HxWxL) 2.5"x4.5"x11.5" (64 x 115 x 292)mm
Weight:3.52 lb (1.6Kg)
Actual MTBF over 17,000 hours
Qualifications: MIL-STD-810E, MIL-STD-461B and MIL-STD-704A
Power Consumption: 7 W

Main Features
Compatible withJ85-5/13/21 engines
Full digital system
Full dual redundancy - two independent controllers in one LRU.
Failure triggered channel switching
Monitors engine parameters (RPM, EGT, CIT, altitude and temperature) engine and afterburner operating time, ignitions counting, flight time, flame-out, exceedance, trends and low cycle fatigue counting.
Optional simple and precise T5 calibration procedure ( one technician required )
Simple flight-line aircraft retrofit - No Aircraft modifications required.
Advanced self BIT (Built-In-Test):

Tests allDTCA functions, modules and engine sensors
Auto recording of all engine starts for in-depth diagnostics and trending
Optional pilot initiated recording

Optional monitoring capabilities of more engine parameters (up to 6 new inputs)
Flight-line re-programmable
Flight-line test equipment- a hand-held Test and Data Extractor Unit (TDEU) - standard USAF GSE. This unit has the following features:

Special Expert System software for prompt, effortless automatic troubleshooting
Enables individual testing of engine components (alternator, thermocouples, etc.)
Flight-line testing of theDTCA does not require aircraft power application

NSN 4920-01-424-8886DQ
Optional laptop configuration of the same TDEU
PC based workstation for ground in-depth engine evaluation and diagnostics.