Digital Generator Control Unit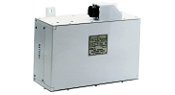 The RSL DGCU (The Digital Generator Control Unit) is a digital replacement for the F-4 analog voltage frequency regulation and load sharing system. The replacement is comprised of two identical DGCUs which replaces the three LRUs of the old analog system.
These two DGCUs control the aircraft electrical power, perform continuous system protection and automatically record in-flight failures. The DGCU enhances flight safety, fleet availability and reduces the maintenance effort of the complex aircraft power supply system.

Benefits
Enhanced safety by improving electrical power system reliability
Fewer mission aborts
Improved electrical system maintainability by:
Increased electrical system MTBF
Decreased electrical system MTTR


Technical Data
Power Consumption: 10 Watts
Weight: 9 lb (4.1 Kg)
Size: (HxWxL) 8.3"x3.9"x10.2" (211 x 100 x 260)mm
Qualifications: MIL-STD-810C and MIL-STD-461B
Main Features
Electrical power control functions:

Voltage regulation
Frequency regulation
Electrical load control
Generator load sharing and protection
System synchronization

Provides continuous in-flight testing capability
On board recording of failures and maintenance related information